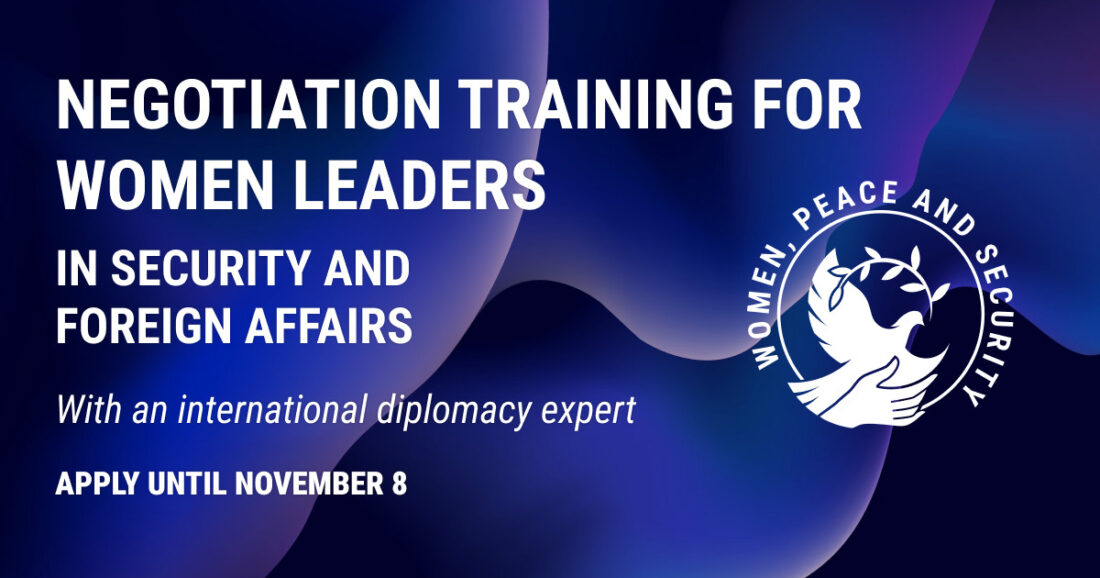 Negotiation skill training for women-leaders with an expert in international diplomacy
LATO is calling for women-leaders in security and foreign affairs sectors from Baltics to join the Training on Negotiation Skills by the Clingendael Academy on November 12-13 in Riga.
The two-day training course will allow participants to become more effective negotiators and better understand their preferred negotiation style in a highly interactive learning environment. Participants will use different techniques to reflect on their strengths and weaknesses in conflict resolution and discover strategic concepts to stay in control during complex negotiations. The invited international diplomacy expert Jeremy Dommnich will share a unique seven-phase cycle method designed by the Clingendael Academy.
As part of the programme, participants will practice the acquired insights and concepts through short exercises and a simulation game based on a realistic case. During the game, they will learn to create an opening strategy and negotiate an agreement. At the end, participants will be invited to self-assess their handling of different negotiation styles and strategies.
The training program is part of LATO's "Women, Peace and Security" initiative and is free of charge. The travel and accommodation costs are covered by the participants. The working language during the workshop is English.
How to apply?
If you are a professional woman in security, defence or foreign affairs sector, send your CV and a short letter of motivation to [email protected] until November 8. The places on the program are limited.
About the Clingendael Academy
Responsible for training approximately 750 diplomats and an additional 2,500 professionals every year, Clingendael Academy is one of the world's largest independent diplomatic academies. Clingendael Academy empowers participants to take effective action in international and politically sensitive environments and help them develop the professional skills they need to grow and thrive. Negotiation and mediation skills training is at the core of Clingendael Academy. Besides diplomats, other professional groups trained include conflict groups in peace negotiations, humanitarian frontline negotiators or women and local community leaders.
The program is supported by the German Embassy in Riga and the Ministry of Foreign Affairs of the Republic of Latvia.