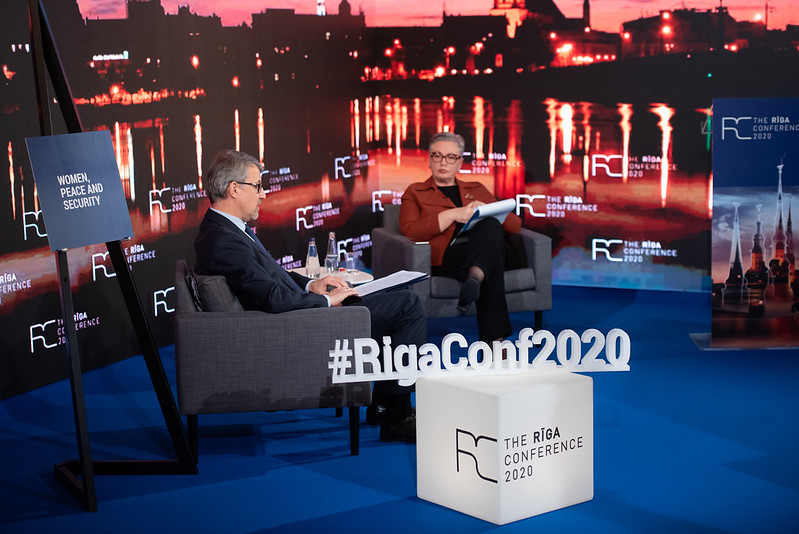 "Women, Peace and Security" – an online side discussion of The Rīga Conference 2020 is taking place today
The Rīga Conference 2020 will take place on the 12th and 13th of November online. The conference will gather high level experts and decision-makers. This year, parallel to the conference, four side events will be taking place online as well. One of them is "Women, Peace and Security" discussion, organized jointly by the Latvian Transatlantic Organisation, the Ministry of Foreign Affairs of the Republic of Latvia, the Embassy of Canada to Latvia and the Riga Graduate School of Law. The event will be broadcasted on November 11, 2020 4:00-6:00 PM on the conference webpage www.rigaconference.lv and on different social media platforms.
The key speakers will be H.E. Kevin Rex, Ambassador of Canada to the Republic of Latvia, Jacqueline O'Neill, Canada's Ambassador for Women, Peace and Security, Clare Hutchinson, Special Representative for Women, Peace and Security at NATO, Kaspars Ozoliņš, Head of Security Policy and Intl. Organisations Directorate, Arvo Anton, Deputy Coordinator for UN  Security Council Affairs. The side event will be moderated by Prof. Žaneta Ozoliņa, Chairwoman of the Board of Latvian Transatlantic Organisation.
NATO recognises the disproportionate impact that conflict has on women and girls, the vital roles women play in peace and security, and the importance of incorporating gender perspectives in all that the Alliance does. In 2018, NATO Heads of State and Government endorsed the revised Women, Peace and Security (WPS) policy that introduced the principles of integration, inclusiveness and integrity.
The Canadian government has demonstrated strong leadership and accumulated a lot of experience while implementing the policy in practice. Their experience is highly relevant for other nations starting out on policy introduction. Some of the most important issues are of a very practical nature in preparing for some of the already identified main challenges and on how to overcome them.
Therefore, within the framework of The Rīga Conference 2020, the aim of the event is to kick-off this important discussion in Latvia while taking Canada as a committed role model and example of good practice.
More information available at www.rigaconference.lv