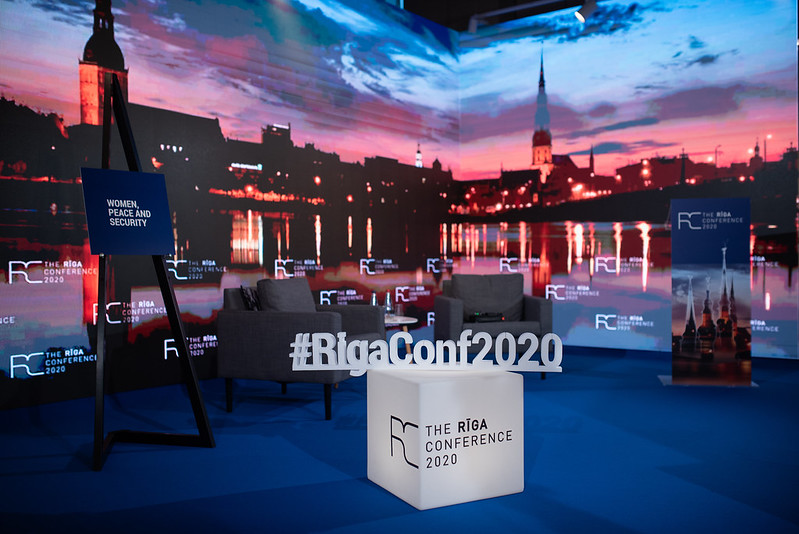 The Rīga Conference 2020 begins this week!
The Rīga Conference 2020 will take place on the 12th and 13th of November online. The conference will gather high level experts and decision-makers. Its participants will have the opportunity to hear from the Secretary General of NATO, Jens Stoltenberg, the President of the European Commission, Ursula von der Leyen, the Initiator of the Coordination Council of Belarus, Svyatlana Tsikhanouskaya and many other distinguished speakers. The conference will be broadcasted on the conference webpage www.rigaconference.lv and different social media platforms.
The agenda of the conference addresses NATO relevance on both sides of Atlantic, COVID-19 caused consequences for deterrence, a post-pandemic global order, EU resilience in case of crisis, as well as infodemic. The conference presents seven panel discussions and two special addresses.  In addition to the main content four side events will engage with the audience by discussin women in security, the future of NATO, Baltic energy security, and the Quad group impact on security. To see the full program please visit the website of the conference.
This year The Rīga Conference celebrates its 15th anniversary. Annually it brings together regional and international experts in foreign policy and defence, academics, journalists, and business representatives, promoting the discussion and assessment of issues affecting the transatlantic community.
The Rīga Conference 2020 is organised jointly by the Latvian Transatlantic Organisation, the Ministry of Foreign Affairs of Latvia, and the Ministry of Defence of Latvia in close cooperation with NATO Public Diplomacy Division, Konrad Adenauer Foundation in the Baltic States, and the European Commission Representation in Latvia. The conference was supported by the Embassy of Canada to Latvia, the United States Embassy in Latvia, Royal Norwegian Embassy in Riga, Embassy of Georgia to Latvia, Riga's official convention bureau Meet Riga, Latvenergo, Swedbank, Seal, and Norstat. The technical provider of the conference was SIA AdDiction.
Other contributions to the conference have been made by the EEA and Norway Grants, Boston Global Forum, Center for AI and Digital Policy, AI World Society Innovation Network, Riga City Council, Amber Distributions, Askaneli Brothers, Pupuchi, NelleUlla, Birzī, Oxford Analytica, Latvian National Library, Armadillo, Faculty of Social Sciences at the University of Latvia, and Riga Graduate School of Law.
The informative supporters of The Rīga Conference are Latvian Television, LSM.LV, Latvijas Radio, LETA, LMT, Milmag, iPress, Postimees, TVNET, The Lithuania Tribune, Spektr, Guvenlik Portali, Macdonald-Laurier Institute, Hospodarske Noviny, DELFI, Uluslararasi Ilisklier Konseyi, Baltic Defence College, and Hromadske International.