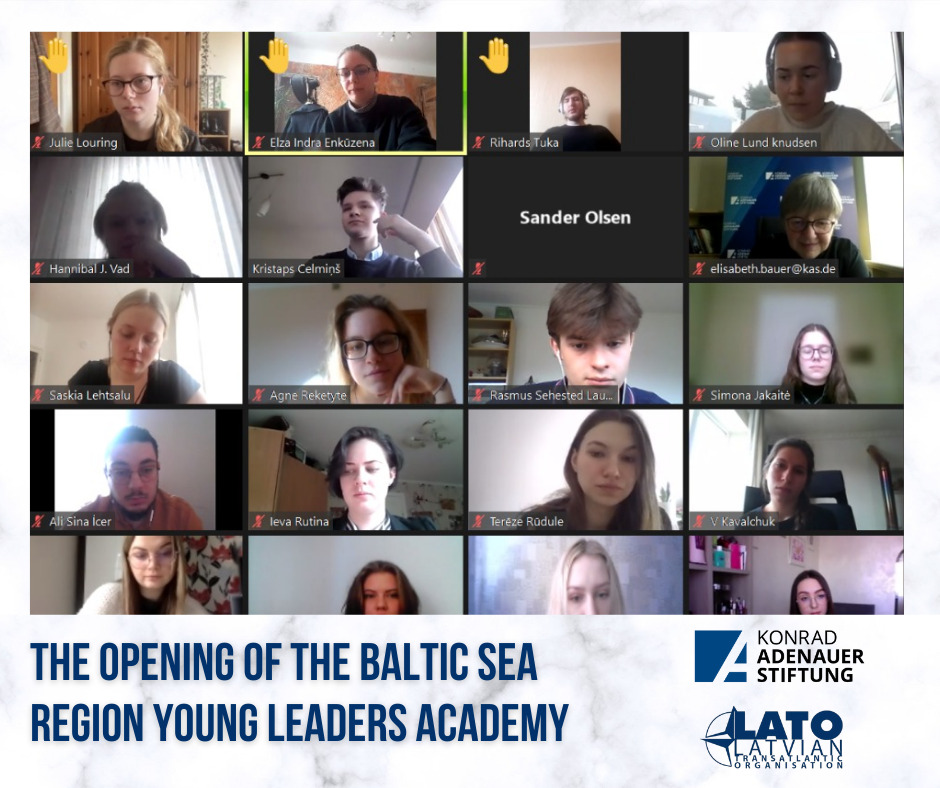 The Baltic Sea Region Young Leaders Academy
The Baltic Sea Region Young Leaders Academy, organised by the Latvian Transatlantic Organisation (LATO) and the Konrad Adenauer Stiftung Baltic Sea Region (KAS), took place from 27 March to 8 May 2021. During the six weeks of the project, participants from nine countries gained new knowledge online in lectures, discussions, and practical masterclasses.
The Baltic Sea Region Young Leaders Academy is the third project of this format that LATO and KAS have implemented since the beginning of the COVID-19 pandemic. The project was originally organised for young people in Latvia, then for participants from Latvia, Lithuania and Estonia, and this time the for the whole Baltic Sea region, involving participants from Latvia, Lithuania, Estonia, Finland, Russia, Norway, Denmark, Poland, and Germany.
As part of the project, young people were given the opportunity to hear six expert lectures on the Baltic Sea region, looking at the security of the Baltic Sea region, the role of NATO in it, threats from radicalisation and populism, opportunities and challenges for sustainable development, and opportunities to fight against the threat of disinformation.
The participants also participated in a discussions with Swedish politician Sofia Arkelsten, German ambassador to Latvia Christian Heldt, and in a peer discussion on the values of the European Union led by Dr Florian Hartleb. During these weeks, participants learned new conflict de-escalation and argument skills and participated in a two-day simulation game on the European Union's Eastern Partnership.
After the academy, the members of the academy expressed their gratitude to the organisers for the opportunity to get to know other active young people from other countries during the pandemic, while gaining valuable knowledge and skills that can then be applied later in life.