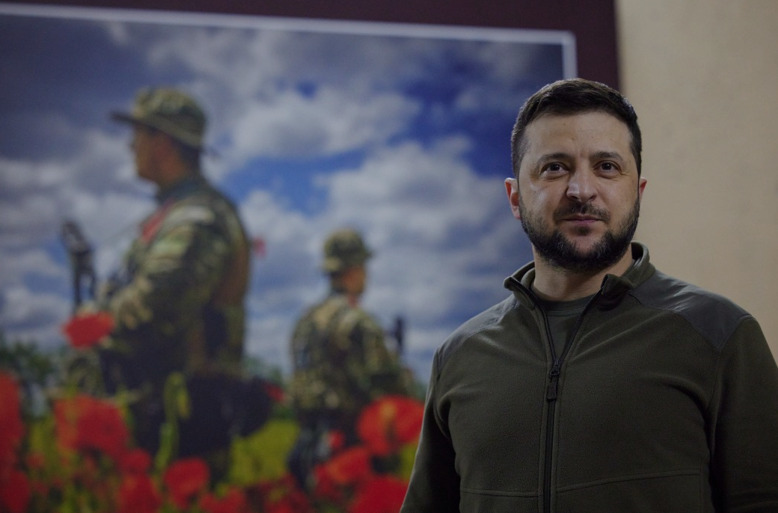 President of Ukraine Zelenskyy and all Ukrainian People to be Honored as World Leaders for Peace and Security 2022
On April 29, 2022, at Loeb House, Harvard University, Governor Michael Dukakis will present Volodymyr Oleksandrovyc Zelenskyy, President of Ukraine and the Ukrainian people, with the Boston Global Forum (BGF) and Michael Dukakis Institute's Annual Award "World Leader for Peace and Security" at "Laurel for Peace and Security in Ukraine" Conference, co-organized by BGF and the Latvian Transatlantic Organization, with participation of presidents, prime ministers and distinguished thinkers from Harvard University and MIT.
Governor Dukakis stated, "Boston Global Forum and Michael Dukakis Institute honor President Zelenskyy and all Ukrainian people as the recipients of the World Leader for Peace and Security Award for 2022 for their courage and sacrifice for freedom and independence."
Zelenskyy is brave against the Russian forces, even in the face of assassination threats, has been an integral part of the resistance. His leadership, loyalty, and confidence in Ukraine has made courage contagious throughout the country.
The people of Ukraine have been brave and courageous in the face of a totalitarian regime, in spite of a dictator who wants to control their way of life. The Ukrainian people have stood before tanks, mobbed Russian vehicles, and have held their ground in the country to take up arms and defend their independence.
President Zelenskyy and the Ukrainian people have had an impact across the globe – uniting the EU and other countries in their fight. They have shown their bravery and courage in the fight for freedom and independence, while maintaining peace and security for all human beings. They are teaching dictators and totalitarian regimes lessons about dignity.
Along with honoring them, BGF calls on our community members to help and support the Ukrainian people in rebuilding their country. The first step in this incredible undertaking is to help Ukrainian students, as they are our hope for the future.
Ambassador of Ukraine to the United States Oksana Markarova says, "We sincerely thank the BGF Board for honoring President Zelensky and all Ukrainian people the 2022 World Leaders for Peace and Security Award. We take it as acknowledgement of outstanding bravery and exemplary leadership, demonstrated by our Head of State, his government and military personnel under the challenging and daring times of Russia's unprovoked attack on our sovereign nation. We deeply appreciate the decision of the BGF Broad to support and help Ukrainian students and see it as an important contribution into Ukraine's future as a prosperous European democracy."
Previous years, World Leader for Peace and Security Award recipients were Prime Minister Shinzo Abe, Chancellor Angela Merkel, UN General Secretary Ban Ki-moon, President Toomas Hendrik Ilves, President Sauli Niinisto, President Vaira Vike-Freiberga, President Ursula von der Leyen, and Riksdag Speaker Andreas Norlen.
Press release written by: Boston Global Forum