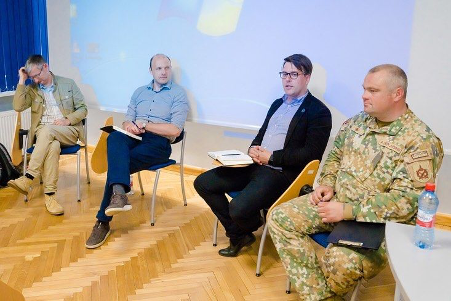 Let's talk about NATO!
2019 marked the 70 year anniversary since NATO was founded and 15 years since Latvia became a member of the North Atlantic Treaty Organisation. In relation to these major events, Latvian Transatlantic Organisation organised a "Let's talk about NATO" project in cooperation with the Defence Ministry of the Latvia, within which industry experts discussed NATO's role in Latvia's security.
During the "Let's talk about NATO" cycle, topical issues were discussed about NATO's sustainability, highlighting the importance of the alliance in Latvia. During the discussion cycle, three discussions were organised at the University of Liepāja, Ventspils University and Daugavpils University, informing university students and pupils on NATO in Latvian defence. The project attracted a number of industry experts who shared their knowledge and experience on issues such as the Baltic States region strategy without the presence of the NATO alliance, Latvia's contribution to NATO, the role of allies in the defence of Latvia, the impact of cyber security on NATO protection and the sustainability of NATO and its future.