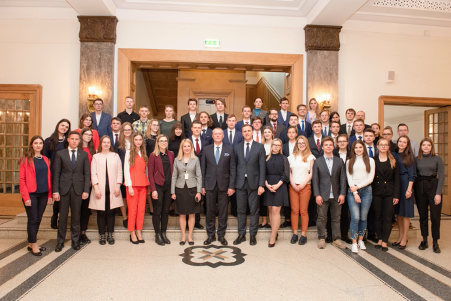 NATO simulation game
On 15th May 2019 the Latvian Transatlantic Organisation, in cooperation with the Ministry of Foreign Affairs and the Ministry of Defence, organised a NATO simulation game to celebrate the 15th anniversary of Latvia's NATO membership and the 70th anniversary of the Alliance. The summit took place in the premises of the Ministry of Foreign Affairs and the military base of the Latvian National Armed Forces in Ādaži. The aim was to promote knowledge and raise interest among young people on NATO, international security and defence policy issues, as well as the understanding of NATO decision-making process.
In the simulation game, each team represented one of NATO's member states and had to reach agreement of a joint statement while continuing to defend their country's position on specific political, military, economic and social issues. The first three winning teams received the opportunity to visit NATO headquarters in Brussels, as well as earned invitations to participate in The Rīga Conference 2019 in October and were gifted valuable books.