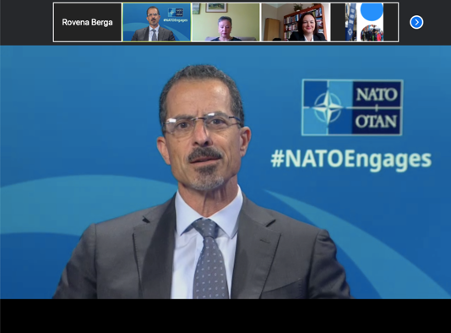 Expert discussion The Impact of Covid-19 Pandemic Impact on Comprehensive Defence
On September 18, 2020 the Latvian Transatlantic Organisation, in cooperation with Estonian Atlantic Treaty Association (EATA) organised an online expert discussion on the impact of the Covid-19 pandemic on Comprehensive Defence. NATO Defense Institution and Capacity Building Director Mark DiPaolo, Undersecretary for Defense Policy of the Ministry of Defence of the Republic of Estonia, Kadi Silde, Director of the Crisis Management Department of the Ministry of Defence of the Republic of Latvia Vitālijs Rakstiņš and Vice-Chairman of the Latvian Transatlantic Organization Board Professor Žaneta Ozoliņa took part in the discussion.
The uncertainty and global crisis caused by Covid-19 have highlighted both individual shortcomings in national defence systems and their ability to respond to different critical situations, while at the same time providing an opportunity to see the necessary directions for further strengthening security. The participants highlighted a number of challenges facing defence systems at both NATO and national level, such as threats from disinformation, insufficient accumulation of resources, rigidities in supply chains, gaps in public skills to deal with crisis situations.
Watch the discussion here: https://youtu.be/XTYJ5NOHTYc