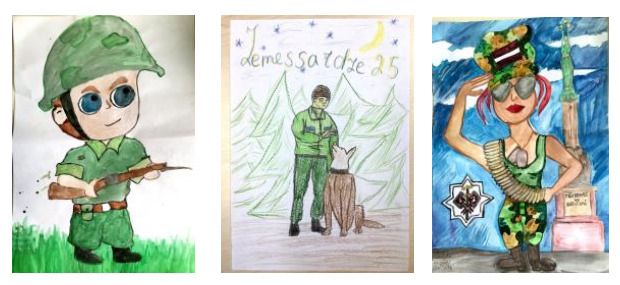 Drawing contest for children from orphanages "A wish to my protector – soldier"
In 2017 from 16 June to 1 August a drawing contest was organised in honour of the 25th anniversary of the Latvian National Guard, in which children and teenagers from orphanages were invited to send in drawings on the topic "A wish to my protector – soldier". There are over 9,000 volunteer national guardsmen and National Guard veterans in Latvia who serve their country selflessly, taking care of all our security.
Over a month and a half, more than 50 drawings from 10 Latvian orphanages were sent in. Although the Latvian Transatlantic Organisation covered the postal services so that the drawings could be delivered to the office, the director of orphanage of Naujenne personally came to hand out the drawings. The awards were delivered to the orphanages through both the National Guard and the staff of the Executive Office in person.
The drawing contest was supported by TC "Alfa", Aerodium, Zvaigzne ABC, Latvijas Maiznieks, Draugiem.lv, Latvijas Kuģniecība, Venden, Jumava, Latviešu Leļļu Teātris and Latvijas Gāze.