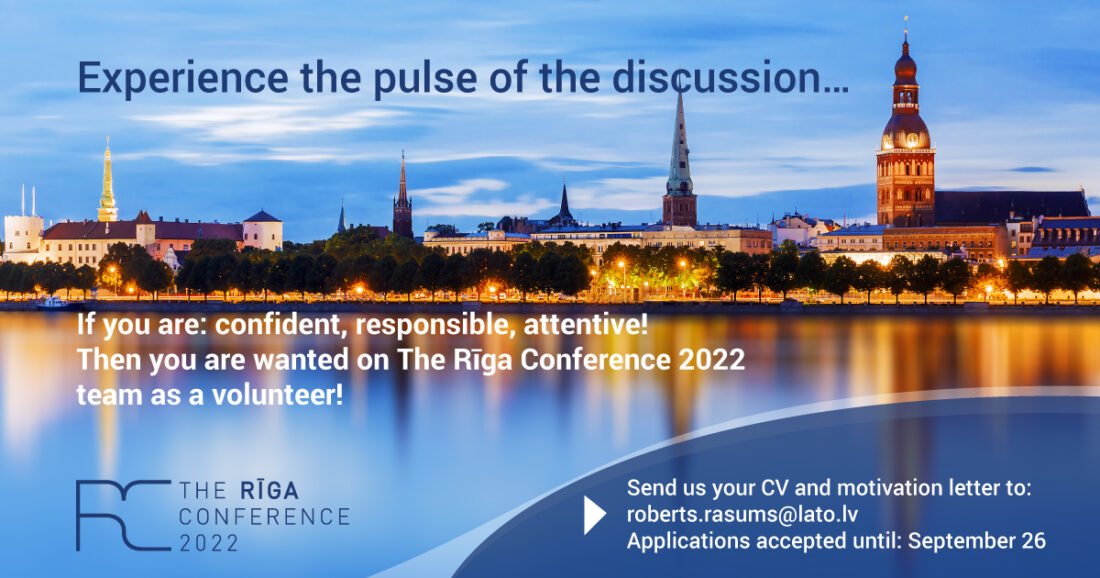 Experience the pulse of the discussion…
If you are: confident, responsible, attentive!
Then you are wanted on The Rīga Conference 2022 team as a volunteer!
Send us your CV and motivation letter to: [email protected]
Applications accepted until: September 26
Since 2015, the region's most important international and security policy forum – the Rīga Conference – has been held annually in Rīga. The conference provides an opportunity for the parties involved to identify current trends and engage in dialogue about global processes. The Conference is organised by the Latvian Transatlantic Organization in cooperation with the Ministry of Foreign Affairs of the Republic of Latvia and the Ministry of Defence of the Republic of Latvia.
This year, the Rīga Conference 2022 will take place on 20-22 October. Over two days, discussions will be held in the National Library of Latvia that will cover today's most pressing security issues.
If you are a confident, enquiring young person interested in international politics, you can become one of the conference's volunteer interns. It will be an opportunity to see, hear and experience the pulse of international events in person.
Apply by sending your CV and motivation letter to e-mail [email protected] – in case of questions call Roberts Rasums (+371 26424683)